"It's Your Prep Area, Make it Work for You"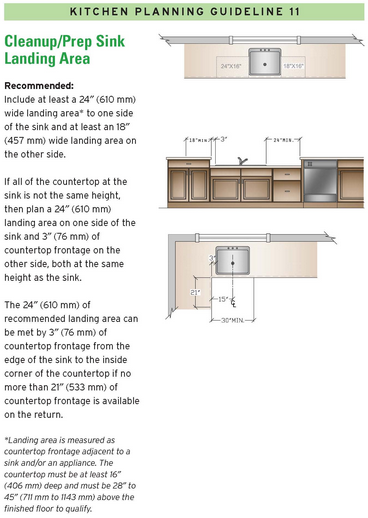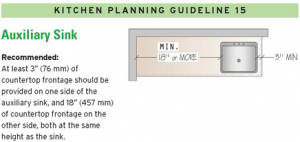 When it comes to getting down and dirty in the kitchen this distinction means something different to everyone. If you are the one who does the bulk of the cooking at your house you know exactly how you want your kitchen set up for the dirty work you do. Production starts at your prep areas and dialing in this space to meet your needs is crucial to making the chore of cooking and baking an enjoyable experience.
Some people never have enough counter space and need to create what might resemble a food assembly line in order to get the raw ingredients from the fridge to the oven. For this type of person design elements like adequate counter space and appliance location should be areas of emphasis. Other folks love to have every utensil and gadget at their disposal and don't mind getting almost every available dish dirty in the process (this is how my wife describes my cooking style, probably since the person who cooks at our house is generally not the person who ends up doing the dishes). Admittedly, I fall in this category and for myself I like to have a lot of cabinets in the prep area for easy access to pots, pans, spices, and utensils. My wife and kids enjoy that I have also located the dish washer and a large sink in this area so their task of cleanup is easier after the cooking is finished. Still there are others who tend to spend more time keeping their operation in order with less clutter and spotless surfaces. This work area tends to have a good balance of usable counter space, appliance storage, and space-saving conveniences such as wall mounted magnetic knife bars and multi-bin trash drawers. In the design phase of a new kitchen the input of the person or people who will be in charge of meal preparation should be considered as to provide them with the layout and tools that allow them to do their best work.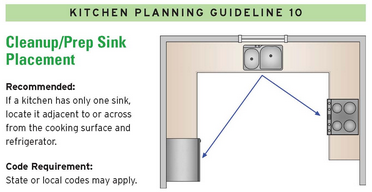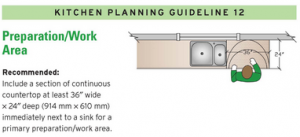 The keystone feature in the prep area is the sink. Whether it's the lone kitchen sink or a dedicated sink intended solely for food prep this is the starting line for any meal. The triangle concept (discussed in Design Guideline #2) should be brought into the conversation when laying out the other appliances in relation to the sink. At a minimum the sink itself should be equipped with an adequately sized garbage disposal, however, these days you can also upgrade to a touch-less faucet or an air powered disposal switch to add elegance to the kitchen and efficiency to chef's workload.
Counter space can often times be overlooked in the design phase. Allowing for what is known as "landing space" is very important when planning out your prep area. If you are considering a kitchen renovation its a good time to look at your current layout. If what you have is not working for you one reason might be the result of an inadequate amount of landing space. In many cases more space can be created by doing something easy such as moving the new sink left or right by as little as 6 inches which can be huge difference to the prep cook. Kitchen Planning Guidelines 11, 12, and 15 illustrate some recommended standards for landing space and work areas adjacent to the prep sink. It is important to keep perspective on the fact that the function of your new kitchen is just as important as its esthetic quality. This approach can certainly help to make your numerous design decisions easier and prove beneficial to those who use the kitchen once it's completed.