Each year we complete numerous bathroom remodels and over time we've seen design trends come and go. Some last longer than others and become the new standards while others fade away like stars in the morning. This spring we've identified 5 Bathroom Renovation Trends that we think will be here well beyond the upcoming summer months. The selection of materials for these 5 items are better than ever, installation techniques have improved dramatically, and the end results if a more efficient, affordable bathroom for you.
1) Unique Shower Pan Tile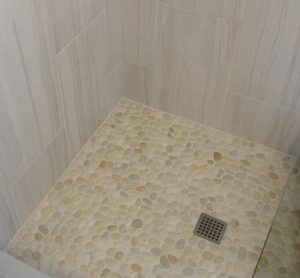 There once was a time when the floor tile of a shower was either a 1×1 or 2×2 tile that matched the shower walls. There wasn't a lot of creativity going on in the lower levels of a shower remodel. Options have increased and our client's desire for contrasting tiles and stones have given way to a seemingly endless combination of colors and textures.
We are seeing more and more call for natural elements in bathroom designs. Smooth river rock mosaics such as "Island Pebbles" from United Tile are bringing that natural experience into the shower pan. There are number of color options that work well with any wall tile selection. Island Pebbles create a very flat and safe surface while giving the illusion that you are standing in perhaps the middle of a calm, outdoor stream.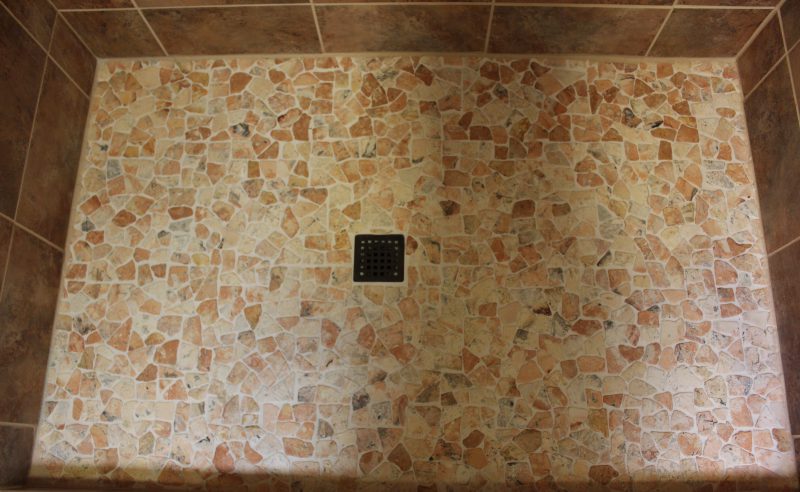 2) Built-In Shower Seating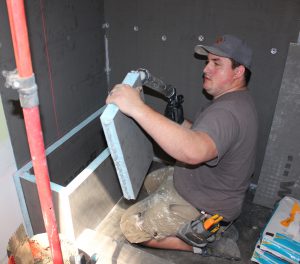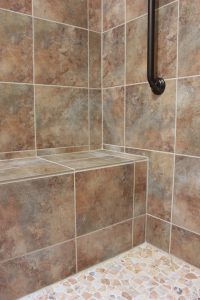 It seems like many of the shower remodels we are doing these days include some sort of built-in seating. It is not surprising to us as this is one Universal Design concept that makes sense from a convenience and safety standpoint. Coupled with grab bars, the shower seat creates a relaxed option for soaking, cleaning, and shaving.
The construction of these custom benches have become more cost effective over the years too. We use products such as Wedi tile backer, with which we can create structurally sound benches and shelving, quickly and with very little waste or mess. Wedi products can be cut and formed to many shapes and sizes which gives our homeowner's creative freedom to design a truly customized shower. Wedi Installation Video.
3) Heated Tile Floors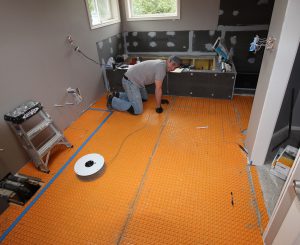 A few years back it seemed like we'd see only the high end master bathroom remodel feature a heated tile floor. The old heat mats were limiting with how and where they could be installed. The costs and unknowns of heated flooring kept this luxury off most homeowner's radar. This is no longer the case, the word is out about floor heat, and it now seems to be at the top of all homeowner's wish list for their remodel.
For us, floor heat has become easier and more cost effective to install and therefor it is with confidence that we recommend this upgrade on projects. We have been using DITRA-Heat from Schluter on our bathroom tile projects with fantastic results. Schluter-DITRA is an uncoupling, polyurethane tile-backing membrane, that creates a waterproof and vapor managed substrate for ceramic and stone tile surfaces. DITRA-Heat cables install easily into the this floor mat by snapping into place wherever heat is desired though out the bathroom. DITRA-Heat cables do not need to return back to the thermostat and are available in 120 volt and 240 volt options. DITRA-Heat Digital Thermostats control the floor heat with remote sensors. They feature built-in GFCI's and a digital display. There is also a programmable thermostat option as well. Follow this link to learn more about Schluter DITRA-Heat.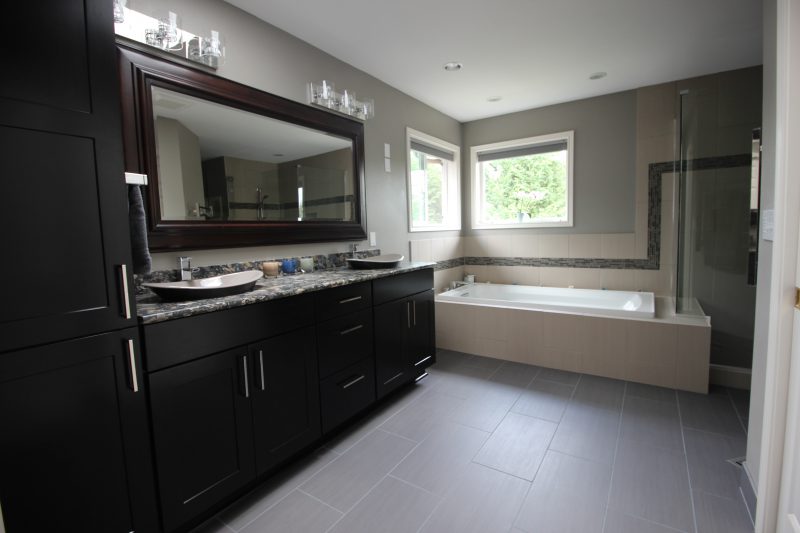 4) Natural Light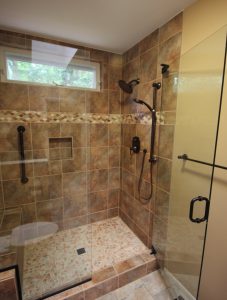 We find ourselves adding or relocating lights on the majority of bathroom renovations we undertake. A recent trend in bathroom design has us now looking to the outdoors for other sources of economical, natural light. With what is now known about the health benefits of natural light in our lives it doesn't come as a surprise that homeowners want to start their day with as much natural light as possible.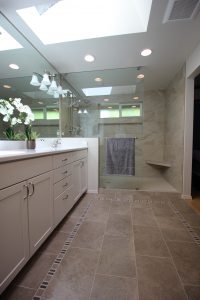 Even with the plentiful gray skies of the Pacific Northwest much light can be gained by opening your ceiling up with a skylight. Trusted manufactures such as Velux provide a variety of glazed ceiling options from Deck or Curb-Mounted Skylights, to Roof Windows, to the Sun Tunnel which is a great alternative to traditional skylights. Many Velux products can be controlled with the push of a button so it is easy to regulate light and fresh air as you desire.
In addition to increased skylight demand we are also incorporating more windows into the showers we build. For years it was commonly thought that a window in the shower spelled disaster down the road in the form of costly water damage. Waterproofing technology has improved drastically in the last 10 years and so has the importance of venting your bathroom. Transom windows are great solutions to: 1) Vent moisture from the bathroom. 2) Infuse natural light back into the bathroom as well. They are located at an elevated height which is good for privacy and avoiding direct shower head splash.
---
5) Deep Soaker Tubs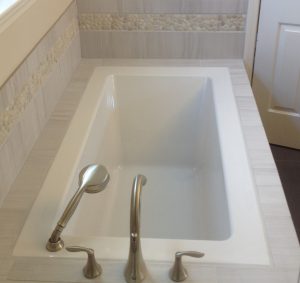 There has been a trend over the last few years in which we've seen many homeowners doing away with their bathtub completely in lieu of a larger shower. While large showers are still popular we are seeing that there is still a demand for the bathtub. Two types of tub in particular are trending. The freestanding tub is now the keystone for many designer's bathroom vision. For homeowners that want a deck mounted tub they are choosing to upgrade to deeper soaking model.  A couple of popular deep soaker tubs have been the "Archer" by Kohler (19″ depth) and the "Studio Bathing Pool" by American Standard (22-1/2″ depth).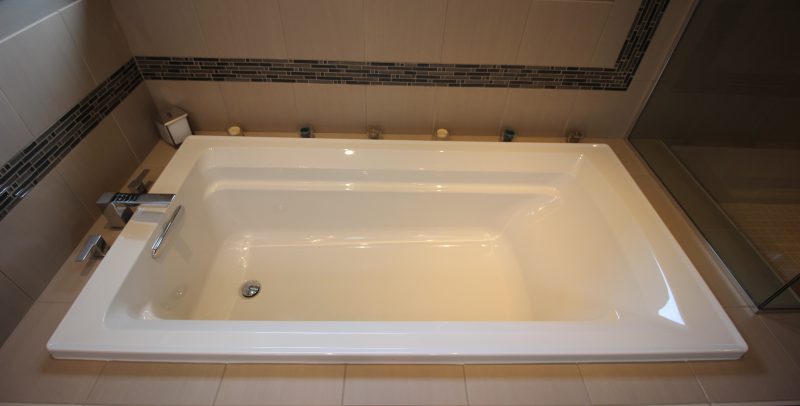 Homeowners realize that it's not every day that they'll set out to plan a bath remodel but when they do we hear terms such as "natural," "warm," "comfort," and "custom" come to describe the ideals of their new bathroom. These 5 trends reflect those adjectives and is why they have what it takes to stick around for years to come.
---
Do you enjoy discovering new Kitchen, Bathroom, or Home Renovation Ideas? Check out our backlog of Previous Blogs It's a great resource for Homeowners. 
---
Before you begin your Remodel get a copy of our new E-Book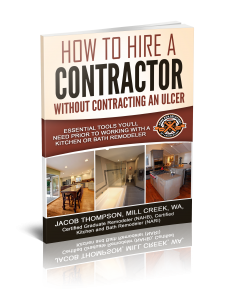 ---
We'd love to hear your story. Contact us today 425-320-4786 or Book your in-home consultation online!