ShowerLite from ClearMirror: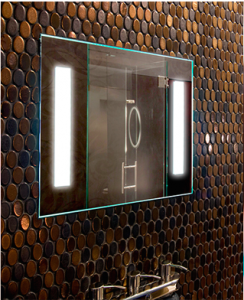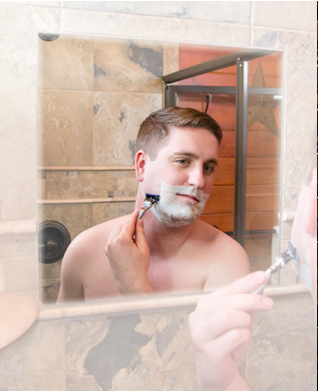 The ShowerLite anti-fogging mirror from ClearMirror is sure to get the attention of men and women alike. The low-voltage 12″x12″ mirror features an ultra thin heating pad set behind the glass which keeps the mirror crystal clear even inside the steamiest showers. Clear Mirror has offered fog-less mirrors for years but the ShowerLite is the first of its kind that comes with two built-in LED lights on either edge of the mirror. All of the low voltage components are safely concealed in a waterproof compartment.
The ShowerLite is intended to be permanently installed, flush with surrounding shower wall tile or outside the shower in a vanity application. With a flip of a switch you can safely begin to heat your mirror up to 102 degrees F. In the shower you'll now be able to shave with confidence, apply facial treatments with ease, and remove makeup within the warmth of your shower.
ShowerLite is also a great fit for Universal Design showers. If installed at a lower height near a bench or at wheelchair height the ShowerLite can be a safe improvement for Aging in Place residents.
Outside of the shower you'll no longer need to wipe the mirror down with a towel or lose heat and time by waiting for the mirror to defog. The ShowerLite is a great way to add elegance and function to your new bathroom. For more information on sizing and mirrors from Clear Mirror, visit: clearmirror.com
The images are courtesy of ClearMirror.com
---
Do you enjoy discovering new Kitchen, Bathroom, or Home Renovation Ideas? Check out our backlog of Previous Blogs It's a great resource for Home Owners. 
Are you looking for assistance designing your new Bathroom?
Is there another room in your home that is ready for a Remodel?
We'd love to hear about your project. Contact us today (425) 533-7896 or Book your in-home consultation online!
---
Get Your Copy of Our Remodeling E-Book: