It's Your Water, The Way You Want It: ioDigital from Moen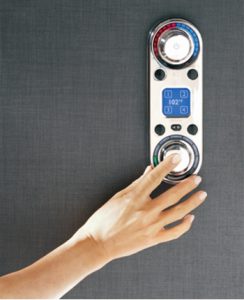 Who likes dragging themselves out of the comforts of a cozy bed in the morning, only to get delayed by a slow warming shower? Who wants to pace back and forth at night after a long day because you're stuck waiting for your bathtub fill up? Nobody. That's why ioDigital, the innovation from Moen, is so practical and time saving. ioDigital is the automated controller that allows you to find the exact temperature and water pressure of your bathtub or shower. Then all you have to do is lock in your preferred setting to one of your presets and start the water remotely from your bedroom or anywhere else within 30 feet of the controller. The ioDigital Shower comes with 4 programable presets so everyone gets their shower the way they want it.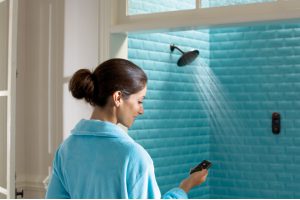 The ioDigital Roman Tub allows you to enjoy the added benefits of a "top-off" button which can be pushed to add water if the water level dips or if you simply feel the need for a warm-up. The controller also comes with a safety lock to prevent accidental tub use. You can lock in 3 different preferred temperature and flow settings with the ioDigital Roman Tub.
The ioDigital Vertical Spa allows you to configure each spray outlet to your exact preference in addition to the temperature and flow settings. Each time you step into your Vertical Spa you get the exact experience you desire because you won't have to waste any time fiddling with knobs and controls. ioDigital is very easy use and is available for many of Moen's shower and bath products. Here's a link to view all of the Moen products that feature ioDigital.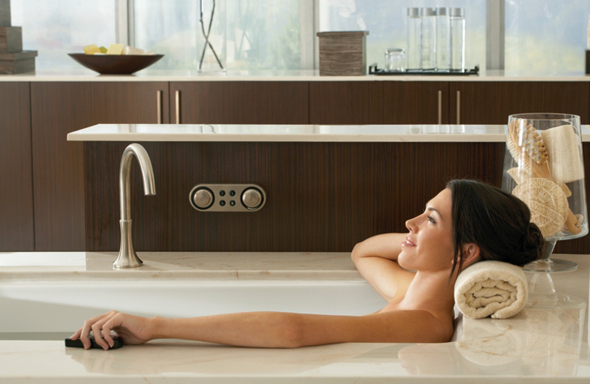 The images are courtesy of www.moen.com
---
Do you enjoy discovering new Kitchen, Bathroom, or Home Renovation Ideas? Check out our backlog of Previous Blogs It's a great resource for Home Owners. 
Are you looking for assistance designing your new Bathroom?
Is there another room in your home that is ready for a Remodel?
We'd love to hear about your project. Contact us today (425) 533-7896 or Book your in-home consultation online!
---
Get Your Copy of Our Remodeling E-Book: