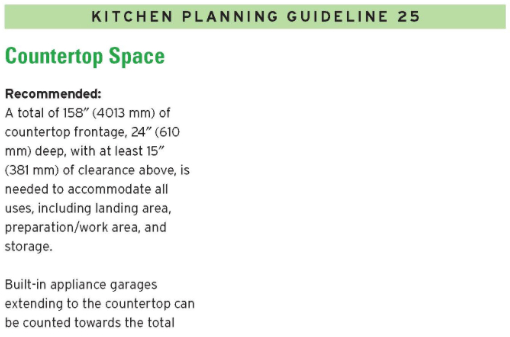 Whether you are planning your dream kitchen remodel or just need to find a few more square feet of available space in your existing kitchen, usable countertop space is always a priority. The first place to start in this quest for space is to look for what can be eliminated for the kitchen counter. Does mail, books, bills, flower pots, or even a bulky knife block occupy space on the kitchen counter? If yes, then do yourself a favor and remove what ever it is that is not absolutely necessary to kitchen activity from the counter. Throw it away or find new home for it on a shelf, drawer, or another room of the house. If you need to have small appliances on the counter be sure that you are actually using these particular units each day otherwise put them in a cupboard to free up space. This will also be an opportunity to clean out your cabinets. If it's not gonna have a purpose in the near future give it a toss.
Once you cleared up some of the clutter take an inventory of where you still could use more space. If you need more prep space consider purchasing a cutting board that is designed for use over the sink. Boards such as Cut 'N Catch from Catskill Craftsman allow you to separate what you cut into a plastic insert and easily dispose of what you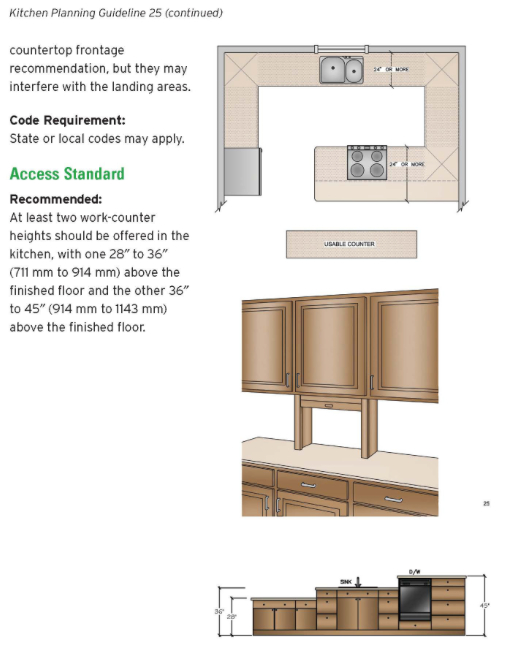 don't want directly into the garbage disposal below. You can also order after market pullout stone or hardwood cutting boards that install easily under the countertop.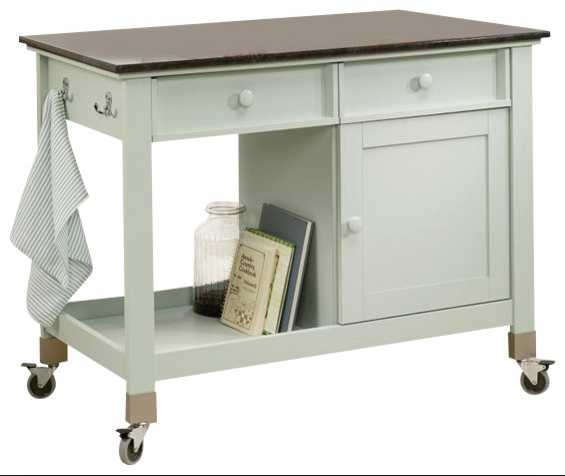 Another creative way to gain counter and storage space is with a multi-use mobile island cart. Many brands are available with various surfaces such as granite, marble, or butcher block. Your general contractor can also build a cart for you to meet your needs and design taste. You can customize your cart with shelves and drawers below, perfect for spices, appliances, and utensils. With caster wheels at the base you can easily maneuver your cart to the desired spot in the kitchen, lock the wheels in place during use, and then stow it out of the way when you are finished. I have also seen these carts used as a temporary island seating when more guest seating is needed. For a kitchen with even less storage space you can purchase foldaway carts that collapse down much like a folding chair and can be brought out only when more counter space is needed.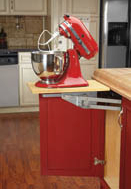 After market hardware is available to lower and raise appliance platforms from a stored location into position at countertop height with very little effort. One of my favorite appliance shelves is the Rev-A-Shelf "Mixer Lift." This appliance lift folds under the counter when not in use and then pulls up to counter height when you need access to the appliance. These mechanisms were originally developed as Universal Design applications but can be a benefit to any person who desires better access in the kitchen as well as better storage solutions.
If you are designing a new kitchen layout consider the size and shape of the sink you will be purchasing. Maybe a corner sink would fit with the layout of your kitchen better that a standard rectangular shaped basin. Many appliances now feature pullout shelves to place hot dishes directly on. If you don't see a solution readily available for purchase to meet your countertop needs get creative with you general contractor. If you think a pullout, swing-out, or flip-up shelf would serve you well, the two of you should be able to customIze a good solution for your kitchen needs.
The diagrams are courtesy of National Kitchen & Bath Association
---
Are you ready to start your Kitchen Renovation?
Contact Us Today to Schedule a Free Consultation
Is there another area of your Home that we can offer you our services?