We Believe In Building Our Community. 
Home Run Solutions

is rooted in

King and Snohomish Counties

. We grew up here, we went to school here and now we're raising our families here.
We believe that not only do we serve our clients but that we also need to serve our community with our time, talents and skills.
---
Girls On The Run of Snohomish County 2016- On Dec. 10th last year Home Run Solutions was proud to be a finish line sponsor for the Girls on the Run of Snohomish County 5K at Willis D. Tucker Park in Snohomish. Girls on the Run was created to inspire girls to be joyful, healthy and confident using a fun, experience-based curriculum which creatively integrates running. We were so proud of the large turnout of girls that participated despite fresh snow on the course. We had a great time handing out balloons, coffee, and 10 gallons of hot chocolate! 
Rampathon 2016- The Rampathon has become one of our favorite annual events. 2016 was our 3rd year participating in this awesome community event. We had enough manpower to complete the access ramp as well replace a badly needed side yard fence. Spirits were high and we can't wait to participate in 2017!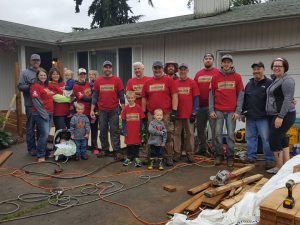 Rampathon 2015- For the second year Home Run Solutions' crew, family, and friends teamed up with the MBA to construct a new deck and ramp for an Everett family. There were plenty of smiles and good times over the 3 day period in which we constructed an entry level deck with composite decking, an access ramp, and new driveway drainage. A special thank you to Dunn Lumber Co. for donating the materials and everyone who came together to give their time and energy toward this awesome annual event! Rampathon 2015 Photos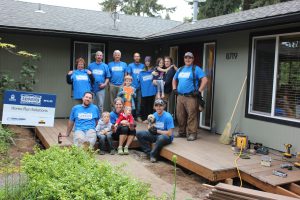 Rampathon 2014- In May, 2014 we participated in the Master Builders Association's Annual Rampathon. Since 1993, MBA members and volunteers have come together to build more than 350 free wheel chair-access ramps for the citizens of Snohomish and King Counties. Our group came together to build the ramp (seen below) as well as some some general cleanup around the exterior of the recipient's home. The weather was great and spirits were high; we can't wait to participate in the Rampathon again. For More Info: MBA Rampathon Program
Everett Fall Home Show- Home Run Solutions was thrilled to participate at the 2014 Everett Fall Home Show. On each day of the show Jacob also hosted a seminar on the main stage entitled "Hiring a Contractor Without Contracting an Ulcer." Jacob had this say about the weekend: "The Everett Fall Home Show was a great chance for Nate (Nate Thompson, HRS Lead Carpenter) and I to interact with homeowners in the community who were looking for more information about the areas of home renovation that specialize in: bath and kitchen remodels, and additions. The seminar was a chance to empower homeowners and generate excitement for their remodeling experience. We can't wait to do it again next year!"
Mill Creek Festival- Each summer the Mill Creek Business Association puts on the Mill Creek Festival. This is a fun time for the community to come together and enjoy great food, live entertainment, and craft vendors. It is also an opportunity for local businesses to interact with our neighbors. Home Run Solutions is a proud member of the Mill Creek Business Association and has hosted a booth at the festival for the last 2 years. We can't wait until the next Mill Creek Festival this July 11 & 12, 2015.
Mill Creek Puddle Run- The Mill Creek YMCA sponsors the "Puddle Run" each February. The run has something for everyone- a 10k, 5k, or 1 mile race through the Silver Firs neighborhood. The event also features chip-timing, a costume contest, and awards for all age groups. The proceeds of the Puddle Run go to support the LIVESTRONG at the YMCA program. Home Run Solutions sponsored a booth at the inaugural Puddle Run in 2014.
Mill Creek Living Business Profile- Mill Creek Living featured Home Run Solutions as their Business Profile (Winter, 2013-14 Edition). We are proud of the article that highlights our Home Run Method, Company Story, Job-Site Safety, and our involvement in the Community. Mill Creek Living is a great publication for local businesses and the foremost resource for all that is going on in the Mill Creek Community. Pick up a copy in a Mill Creek Business near you and be sure to keep an eye out for our ads as well.
Remodeling Magazine Article- In the October, 2013 issue of Remodeling Magazine our Seattle Kitchen Remodel was highlighted in an article entitled "Custom Coffee." In the feature Nina Patel explores Kitchen Remodels that incorporate Built-In Coffee Makers into the design, such as the Brew Express which we installed for our clients. Remodeling Magazine is an industry resource for Kitchen and Bath Professionals. They are also developers of the annual "Cost vs. Value Report" which gives homeowners a realistic estimate on the return they should expect for the project they wish to complete.
Alex's Lemonade Stand Foundation- In 2012, Joe discovered Alex's Lemonade Stand Foundation, which was started with the imagination and courage of Alexandra Scott. From the age of 1 Alex battled with cancer, by the time she was 4 she had received a stem cell transplant and informed her mother that "when I get out of the hospital I want to have a lemonade stand." Her idea was to raise money to give to doctors so they could "help other kids, like they helped me." Later that year she kept her word and with the help of her older brother they raised more than $2,000 for her local hospital. Since 2005 ALSF, a registered 501(c)3 charity, has raised more than $95 million from worldwide support, toward fulfilling Alex's dream of finding a cure. Home Run Solutions has been honored to host lemonade stands and online pledge drives to support ALSF. Make a Donation to ALSF
Archbishop Murphy High School-Alumni Career Day- Over the years Home Run Solutions has been involved in contributing to Archbishop Murphy High School in Everett. From the annual auction, to sporting events, to other fundraisers, chances are someone from Home Run Solutions will be in attendance. Over the past few years Jacob has spoken at the Archbishop Murphy High School- Alumni Career Day. This has been a great opportunity to interact with high school students who are preparing for college and truly impact their career paths.
---
Stay Informed! Receive our e-Newsletter & Blog Updates: