If you have a small kitchen, you know how important it is to make sure every inch of space is used to the best of its ability. That's hard, however, when you are dealing with a kitchen that is outdated or has a poor layout.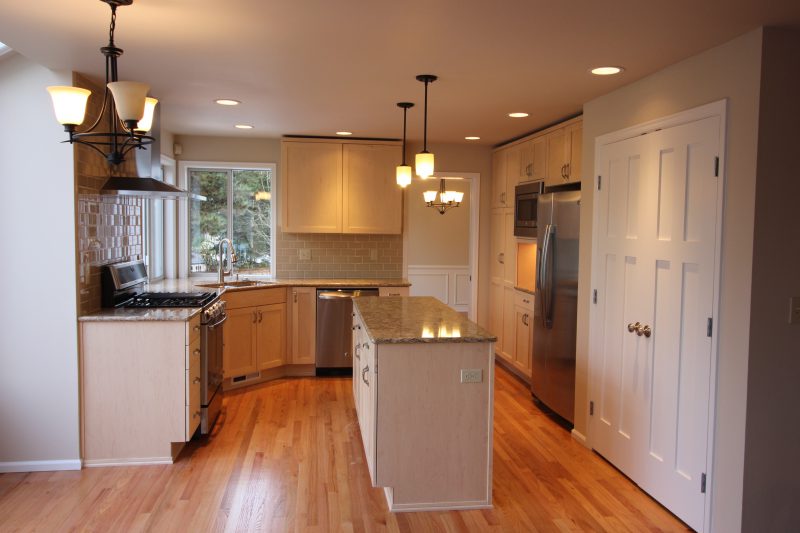 At Home Run Solutions, we are here to provide you with some fun design ideas for your small kitchen. And if you get inspired, you can contact us for a kitchen remodeling consultation!
Think Like a Minimalist
In a small kitchen, one of the most important things you can do is assess your space and cut down on clutter. Consider your appliances; if you have bulky appliances in your small kitchen, you are losing valuable space that could be used to expand storage or provide you with more counter space.
Under-counter refrigerators and freezers could be a great way to conserve space while still giving you functionality, and a wall-mounted faucet adds a point of interest to your kitchen while saving you a few precious inches that are not taken up by a traditional mount. Having a smaller stovetop or a single sink basin can also save counterspace.
If you really want to include your workspace, another great small kitchen addition is a movable island. By putting a countertop surface on a work cart, you can pull it out when needed and store it away in a closet or corner when you are not using it, giving you flexibility with your kitchen space and your counter usage.
Consider Using Shelves
If you have overhead storage in a small kitchen, the space can feel claustrophobic and closed-in. Plus, depending on how tall your cabinets are (and how tall you are!), you might not even be able to reach the tops of them, leaving you with space that goes unused.
Instead of cabinets, think about installing shelves, pot racks, or magnetic knife and spice holders. Using open-air shelving will not only brighten up your kitchen by providing you with more open space, it will also give you a place to show off! You can add artwork or display your favorite dishes, or simply get excited about your creative new organizational methods.
Make Your Space Visually Compelling
Small kitchens can often come off as drab, especially if you have a space that is all white without any distinct colors or lighting. A great way to add visual interest to your kitchen while still maintaining its functionality is to mix up your design materials. Consider contrasting a bright backsplash with quartz countertops, or mixing stainless-steel appliances with natural wood cabinets.
You can also mix up your lighting! Instead of relying solely on fluorescent lights, consider installing pendant lighting or spot lighting underneath your shelves. For more customization, you could even put your lights on dimmer switches, allowing you to easily adjust how bright you want your lighting to be.
Making some of these changes will help make your kitchen more visually interesting and create a space that is engaging and fun. You'll enjoy working in it more, and guests will love the changes!
Think About Your Flooring
If you have flooring that's scuffed, older, or simply is not a style that you love, replacing it with an eye-catching pattern can immediately brighten up your space. Because you are working with a small square footage, you may be able to afford a higher-end style of flooring that is both more beautiful and more durable than your current floor. You could even do a plain countertop with a bold flooring choice to add more visual interest to your space.
Even if the only change you make to your space is to install new flooring, you will be shocked at how much better your kitchen can look. Talking to a contractor – like the team at Home Run Solutions – about your options could open up a whole new world of unique, fun floor choices!
Those are just a few design suggestions for your small kitchen. Embrace your space – you don't have to knock down walls and expand the room (unless you want to, of course). There is so much that can be done to make your small kitchen feel like the perfect place to cook and entertain, and little adjustments that can be made to make you happy with your kitchen area.
If any of these ideas appeal to you, do not hesitate to call us to schedule your kitchen remodeling consultation. With our 3-D modeling technology, we can show you exactly what your kitchen will look like before we ever lift a hammer. We would love to help you turn your small kitchen into the space you have always dreamed of!