A decision you'll be faced when purchasing a new countertop is the selection of the edge design. The vast majority of new kitchen countertops that are going homes today are solid surfaces (man-made or natural) such as quartz, granite, soapstone, or marble. The appeal of these surfaces is their durability, beauty, and variety. Just as various as the colors & patterns is the edge details that you can choose.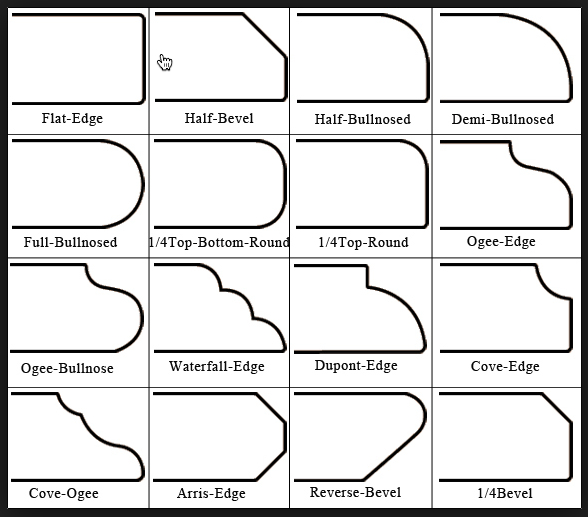 Granted, deciding on the edge detail of your counter may not be as exciting as picking out the the counter itself, but there are some considerations to make. In the illustration you can see some of the most popular edge styles. The most common of these is the flat edge detail. This option typically does not have an up-charge and is the easiest to clean as it doesn't have ridges to collect grime. Edges that have a bullnose or are rounded have the advantage of being easier on your forearms and elbows than the cove or the ogee edge. This is even more important if some of the counter will be used as bar seating. Edges that are not rounded on the bottom will tend to drip spills onto the floor much more so that those counters with a rounded underside.
Tiled surfaces can save you money verses the slab style tops. They are durable and like solid slabs there are numerous varieties of color and texture. Special care must be taken to seal and clean the grout joints of a tiled top especially on the edges of the counters. It is wise that if you choose a tiled countertop in your new kitchen that you have an experienced tile setter do the installation. There are many areas on the counter edge and corners where an experienced setter will give you a finished product that does not have sharp corners or uneven edges. Here more so than floor or wall tile you'll want to make sure the surface is as uniform as possible and an eye for detail is very important.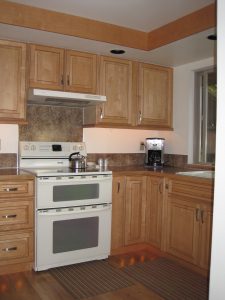 Although plastic laminate countertops do not have the demand that they once did they are still being installed in new kitchens today. The quality and durability of these surfaces are much improved. While the laminate self edge is the most economical option a nice upgrade is to install a hardwood self edge. Species such as oak or maple can be used either with a square edge or bevel. All wood self-edges need to be properly sealed and maintained but tend to handle the wear and tear of kitchen use much better that the laminate alternative.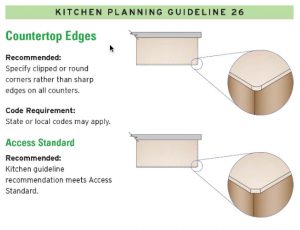 Regardless of the material, pay attention to any 90 degree counter corners in your kitchen that can be potential safety hazards, especially to the lower heads of young children. This detail comes into play often times on raised bars and large overhangs. In these situations the first 5-6 inches of those corners can be reduced with a 45 degree corner or a radius as seen in the diagram. This a detail that is easier implemented prior to fabrication but can be a real improvement to the flow of traffic in the kitchen. Just like with the countertop itself, the edge detail you go with will be in your kitchen for years to come so give it some extra consideration during the design phase to ensure that your new kitchen gets the right edge to stay on top.
The diagrams are courtesy of National Kitchen & Bath Association
---
Look for our next post when we'll introduce: "The In's & Out's of Cabinet Storage"
Are you ready to start your Kitchen Renovation?
Contact Us Today to Schedule a Free Consultation
Is there another area of your Home that we can offer you our services?