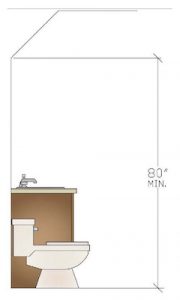 Your new bathroom layout has to aline with your spacial needs. After all what good does it do to update the space if it's not gonna make your life easier too? In the design phase you should be considering how the flow of traffic will proceed through your new bathroom to each particular fixture location (lavatory, toilet, tub, shower, etc). Take some time to ask your self these questions: Do I like to get ready in front of a mirror/sink? Do I stand to put on makeup? Where do I want my towel bar when I'm getting out of the shower? How much space do I need to dry off? How much leg room do I need to comfortably use the toilet? If you will be sharing the bathroom with your partner then this type of discussion should be had in advance, together, so that a cramped bathroom isn't the cause of tension as you begin your day.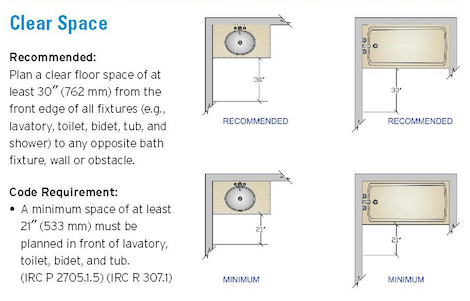 Lets start with head room. In most existing bathrooms found on the main and upper floors of homes ceiling height is not a big issue when renovating the space. Sometime we run into height problems in older homes or in spaces that were not originally intended to be a bathroom such as powder under a staircase or in an attic. In the Northwest, we remodel and build new bathrooms quite often in basements. This is also a place where head room is always a factor and there never seems to be enough available. The minimum requirement is that you maintain 80″ of clear floor to ceiling space in front of and directly over each fixture (vanity, toilet, etc.). Many basements have ducting to contend with and other mechanical obstacles. If possible we try to reroute them during the remodel but if we can't then the bathroom design is certainly dictated by which locations will keep that 80″s of head room. A tub or shower that is equipped with a shower head also must maintain an 80″ floor to ceiling height in a minimum shower area of 30″x30″. This gets tricky because most tub and shower inserts and tiled pans sit above the rest of the bathroom floor height. Be careful not to overlook this requirement otherwise you might end up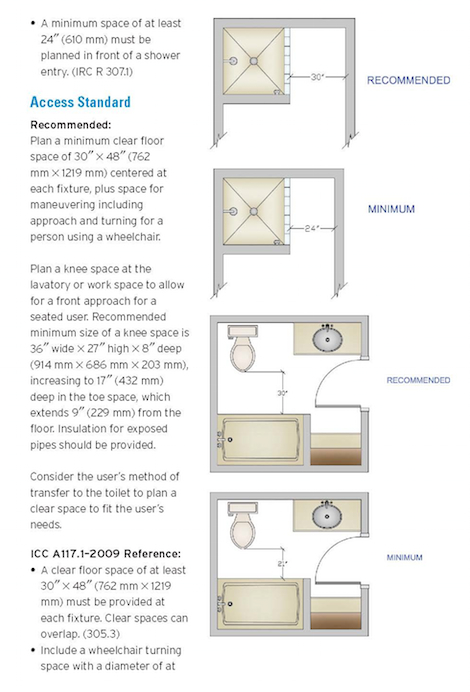 with a finished shower that is awkward to use or gets left unused all together.
Next you'll want to consider how the fixtures will layout in your new bathroom in a way that will give everyone adequate room to move around freely. If its an existing bathroom, is there a vanity cabinet that is too big for the space? or a toilet that is located almost as an afterthought in a confined corner? Now is your chance to discuss the options to create a better bathroom. In the diagrams you will see various minimum space requirements as well as comfortable space recommendations that should prove helpful when designing a new shower or planing a dedicated toilet room.
If you don't have a lot of space to work with there are all sorts of specialized fixtures now available (online or at home stores) with space savings in mind such wall mounted toilets and sinks. Built-in-wall linen closets and custom vanities are very popular with our clients as they are designed to fit their needs and take advantage of every square inch of available space.  A lot of the space allowances do overlap and each scenario is unique but these pictures and measurements will certainly give you some parameters including bathrooms designed to accommodate the needs of someone using a wheel chair which we will introduce in our next blog post. We'd love to hear your comments and ideas for future blog discussions.
The images are courtesy of NKBA.org 
---
Do you enjoy discovering new Kitchen, Bathroom, or Home Renovation Ideas? Check out our backlog of Previous Blogs It's a great resource for Home Owners. 
Do you have a kitchen or bath project in mind but not sure where to start?
Our Kitchen and Bathroom Remodel Guide is a great place to start.
We'd love to hear your story. Contact us today 425-320-4786 or Book your in-home consultation online!