One of the most exciting times of a kitchen remodel is the Design Phase. Its a time when you begin to sketch out the floor plan and start clipping pictures from magazines. Its where there are seemingly no limits on what can be done because your project is just an abstract idea that can be changed, tweaked, or enhanced depending on what inspiration comes your way.
There are a multitude of websites, magazines, and TV shows now devoted to kitchen themes, cabinet styles, hardware selection, color schemes and all things astetic and pretty. These outlets are great resources, however, there is a need to account for the details that ultimately make a kitchen function properly. There are parameters and rules of thumb that need to be considered in residential construction. There are local and international building codes. You'd also be wise to keep Universal Design standards and ADA/ANSI requirements in mind before undertaking an investment of this magnitude.
These rules and regulations can also be a bit intimidating and that's why we have composed 14 Design Guidelines to help you formulate an accurate idea of what is possible with in the walls of your new kitchen. The National Kitchen & Bath Association (NKBA) offers it's members access to their Kitchen & Bath Guidelines. We have combined many of these design scenarios for you as a resource during your kitchen design. Each Design Guideline is easy to read and features illustrations, measurements, and International Code Council (ICC) References.
Please feel free to give us feedback, share your ideas, and by all means ask questions. The more input we get from you the better we can provide the community with helpful resources and ultimately "Renovations You'll Run Home To!"
Design Guideline #1:  "The Doorway to Your Dream Kitchen"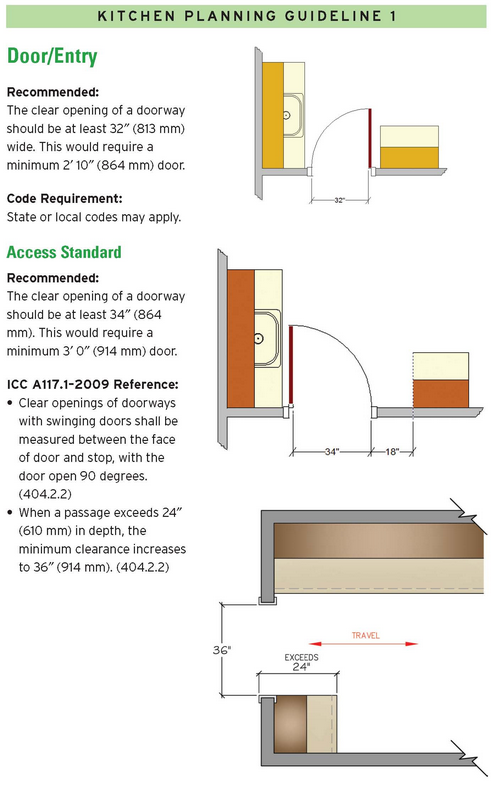 An often overlooked detail of a kitchen remodel is the doorway size(s) leading in and out of the kitchen. The doorway may not seem important in the overall scheme of a kitchen remodel but if the details are overlooked in the design phase you could end up with doors that are undersized, don't swing in a direction that makes sense, or even interfere with an appliance or cabinet.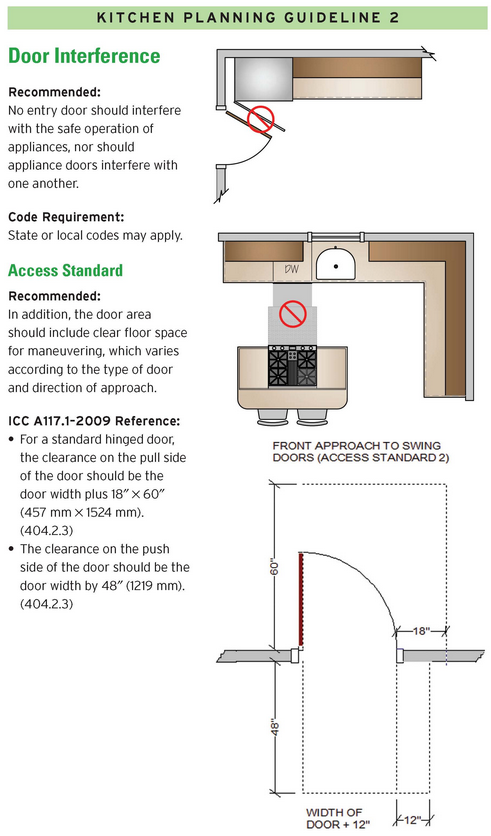 When laying out the door swings it is also important to consider the location of the light switch. Ideally the switch will be located opposite of the hinge side of the door. Chances are there will be times when you will be carrying in handfuls of groceries. Lever style door handles as opposed to round knobs or even double swinging door hinges can make getting through your kitchen door a little easier when your hands are full. Maybe the best solution for a doorway is in fact no door at all.
Inside the kitchen there are more than just passage doors to consider. Each cabinet and every large appliance has a door and swing to consider. These doors need to operate freely and you need room to access the contents inside the door. A good cabinet designer will be able to provide you with a layout that allows the cabinet doors to operate properly. You can help the designer by providing the appliance manufacturer's specifications to ensure enough space is given for proper door operation. Keep in mind that most appliances have the option to reverse the swing. Little details like this these may be all it takes to keep you loving your new kitchen for years to come!
The images and diagrams are courtesy of National Kitchen & Bath Association
http://www.nkba.org/
Look for our next post when we'll introduce Design Guideline #2: "Obey The Rule of The Triangle"
Are you ready to start your Kitchen Renovation?
Is there another area of your Home that we can offer you our services?   Click Here to Contact us Today!