Woodinville Remodeling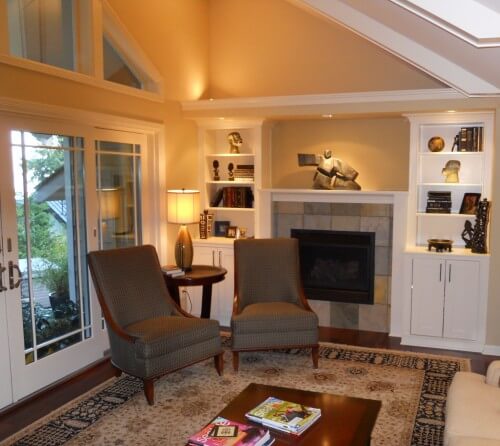 Home Run Solutions is Remodeling Contractor that services the Woodinville WA area with a focus on Kitchen Remodeling, Bathroom Remodeling, and Additions. We always get excited when we get a call from a new client in Woodinville, its such a great community to work with. Plus you can't beat swinging by the Purple Cafe for a quick bite to eat after work. In addition to Woodinville, Home Run Solutions also services the surrounding communities of Bothell, Kenmore and Kirkland.
Home Remodeling Services
Check out these pages to learn more about our home improvement company:
About Woodinville
Part of the Seattle metropolitan area, Woodinville is a city in King County, WA. The city boasts of beautiful waterfront parks on the Sammamish River, sweeping winery and brewery grounds, and densely wooded residential areas.
The Woodins were the first family to settle in the Woodinville community when they homesteaded 160 acres along the banks of the Squak Slough. The slough, later renamed the Sammamish River, served as the highway for the early pioneers, because there were no roads. In the early years, lumber mills and logging were the main sources of income. The community of Woodinville didn't flourish until the Seattle-Lake Shore & Eastern Railway arrived in 1888. The early business district evolved around the railroad depot. Stores, saloons, roads and bridges were built shortly thereafter.
Woodinville gets bragging rights as the home to nearly half of all wineries northeast of Seattle. Many of Woodinville's 100+ wineries, distilleries and cider makers offer tastings, winemaker dinners and special events that attract participants from near and far.
Woodinville is also known for their beautiful river valley and their small town vibe. Four districts dominate the city, each with its own distinct feel.
Dozens of boutique winemakers, each with their own unique take on Washington grapes, pepper an area of less than a square mile in the area known as the Warehouse District. This is where the person pouring your beverage is likely to be the person who created it, and the individuals you'll meet provide the perfect pairing to any vintage.
Located in the heart of the Sammamish River Valley, the scenery in Hollywood is dotted with farms, wineries, and bike trails, all winding by views of the majestic Mount Rainier. Small artisan winemakers share the neighborhood with the biggest names in Washington wine.
West Valley is located on the west side of the Sammamish River and is home to Woodinville's rich past and new frontier. Anchored at its south by the grounds of the spectacular Chateau Ste. Michelle, this rapidly-growing stretch has seen nearly a dozen creators of wine, beer, spirits and cuisine put down roots. There's a relaxed, opened atmosphere there with plenty of reasons to stop for food and beverages.
Downtown is where farm meets market and fork. With a lively mix of food and beverage offerings, downtown doesn't just hold its own against the surrounding districts, it also makes an ideal place to begin or conclude your tasting journey.
Each season brings its own special atmosphere to the Sammamish Valley and a fresh offering of events to partake in. Whatever season it happens to be, one thing is certain: If you happen to live in Woodinvile, you probably consider yourself pretty lucky.
Bathroom Remodels
Homeowners have a wealth of options to choose from when redesigning their bathroom, including fixtures that offer a combination of great design, comfort and high efficiency. However, fixture costs can add up quickly, especially if you start adding fancy extras like heated toilet seats and showers equipped with multiple shower heads.
Our bathroom experts at Home run Solutions suggest you may be more interested in emphasizing efficient features instead, which can help you recoup costs on your utility bills, while you'll also be doing your the part to help conserving water. Investigate items like WaterSense-labeled toilets that use less than two gallons of water per flush.
High-efficiency shower heads can also provide the feel of having a tremendous amount of water spraying your body, while it's actually much less.
Comfort-height toilets are all the rage, and for many consumers, they're a welcome change from standard toilets. Their rims are 2-4" higher than standard, so getting on and off the toilet is way more comfortable for most adults, and especially for the elderly and the disabled, that is a welcomed change.
But even after narrowing your search to fixtures with features that meet your biggest needs, you still won't feel limited on style. Visit a showroom to check out the latest products. Sit on the toilet. Lay down in the bathtub. You're going to be living with these products for years to come, so why not "take them for a spin."
If you've ever dreamed of adding a bathroom adjoining your bedroom, go for it. This has been a trend that's not going away, and this type of remodel is almost guaranteed to add value to your home.
Pay attention to the subtleties of color. Get color swatches and consider painting little sections of your walls and pay attention to the way that different lighting affects the hues.
Safety is paramount, so consider grab bars and other safety tools that are no longer strictly for seniors or kids. These items are now available in designs that no longer look institutional. Look for things like walk-in tubs, elegant grab bars and other innovations to help you enjoy your new bathroom more safely.
The bathroom is one of the most important rooms in the house. It's not only highly functional, but also incredibly personal. It's a room you need, but also one you should be able to retreat to.
Call the experts at Home Run Solutions, and we'll help turn your bathroom dreams into a bathroom reality. No job is too big or to small, and we promise to deliver your project on time and on budget, while exceeding your expectations.
Kitchen Remodeling
Choosing the right components of a kitchen remodel can be an overwhelming process. Not only are there so many decisions to make, but so many options for each decision. Even if you've been planning for years and keeping a folder full of ideas, you may not have even scratched the surface of what's available for you.
The kitchen pros at Home Run Solutions suggest that while you're mulling over what direction to go with for your kitchen improvements, consider your needs, family size and the space available to you. You want to avoid making changes that will cramp or restrict movement in your kitchen and concentrate on ways to open up and make more efficient use of that space. Be careful to not over-focus on aesthetics, because the more functional a kitchen is, the more you'll enjoy it in the long run.
Keeping this in mind, Home Run Solutions experts suggest a few popular trends in kitchen remodeling that are sure to get your creative juices flowing.
Energy Efficient and time-saving appliances are becoming an increasingly popular addition to most kitchens. Induction cooktops heat much faster, so you won't wait as long to begin cooking, and they also cool at a much faster rate, creating safer surfaces afterwards. A convection oven also cooks food much faster, so you'll spend less time preparing your meal and more time enjoying them with your family and friends.
Lighting is always an important feature of any kitchen, but instead of choosing predictable selections, consider smart lighting options or cabinet lighting on a dimmer to provide flexibility and eliminate shadows, making your kitchen appear warmer and more inviting.
If you need more storage space for dry goods, cans, and cooking supplies, consider installing a Walk-In Pantry. You'll free up counter and cabinet space and get to enjoy a cleaner, more organized kitchen, and future buyers are likely to find this feature extremely attractive.
High-Tech Electronics have become increasingly popular in the kitchen, as they have been incorporated features in various appliances. Don't be afraid of the new technology, but don't get too caught up in it, either. As we've all experienced, technology in every aspect of our lives evolves quickly, and today's hottest product, can be tomorrow's dinosaur. Choose wisely, going for items that are likely to have staying power.
Forever beautiful, Hardwood Flooring will always be in style, and when included in kitchens, can help bring together a design and make your kitchen pop.
Built-in appliances boost the functional space that you will have available in your kitchen. These options can help to greatly increase the space in your kitchen, which is normally at a premium.
Many homeowners are moving away from traditional cabinetry and transitioning to Contemporary Cabinets, such as minimalistic modern designs that use touch-latches and aluminum or bamboo surfaces and glass. These cabinets reduce the need for hardware and are available in a wide variety of design styles. Just make sure that their not too trendy and likely to end up as yesterday's news.
Go Green by reducing your carbon footprint with kitchen furnishings that are built from renewable resources. This environmentally sound method of home improvement has created a popular shift to using sustainable tabletops and countertops built from materials like bamboo, and are 100% environmentally safe as well as very attractive.
You've got a lot to think about it, but you don't have to go it alone. At Home Run Solutions, we've got experts in every aspect of kitchen remodeling. We also have tremendous relationships with subcontractors and suppliers so we can champion every element of your project. From cabinetry to flooring, appliances to lighting and everything else you can think of, we'll be leading the way to make sure your vision of your dream kitchen comes to life.
Home Additions
If your family is growing, or you have other needs for more space, you have two options: build an extension on your existing house, or move.
Moving is a stressful and costly experience. If you love your home and your neighborhood but just need a little more room room, don't move, improve.
Here are a few reasons our experts at Home Run Solutions suggest you consider you let them build you a home addition instead of moving:
Commissions and Closing Costs
When you move, there are a number of unavoidable costs including realtor fees, home staging, home inspection and lawyer's fees, among a whole host of others.
When you move into your new home, you'll also face fees for setting up new utility accounts. Unless you're moving to a brand new construction or a custom home, you'll likely want to make at least a few renovations before, or shortly after, you move in. These changes can range from relatively inexpensive, such as painting a few rooms or removing dated carpeting, to costly projects such as renovating the kitchen or a bathroom. This can all add up to be more expensive than the cost of a home addition.
Upheaval of the Family
If you have school-age children, and you move out of their district, you may not be able to keep them in the same school. That can result in the stress and anxiety of having to leave their friends and make new ones. If you're moving from the city to a rural area, you'll have to factor in longer commute times to and from work.
Headaches and Hassles
Before you move, or shortly thereafter, you'll have to update a number of different companies and government entities with your new contact info. You'll need to change the address on your driver's license and other official identifications.
Your bank, your home and auto insurance provider, and your employer will all have to be notified of your new address. You'll have to inform your family doctor, dentist, eye doctor, and any specialists you see, or if you're moving far away, secure all new relationships and arrange to have all your medical records transferred to your new doctors.
In addition to setting up new utility accounts, you'll also have to contact your current providers to close or transfer the accounts to the new owners.
Packing and Moving
Anyone who has ever moved, knows what a hassle it is. You have to buy boxes, packing tissue and bubble wrap, and purge as many unnecessary items as possible along the way, so you don't have to pay to move non-essentials. Once you've relocated into the new house, you'll have to undergo the whole process over again in reverse, inevitably finding out that at least a couple of family heirlooms have broken in transit.
Costs for moving an entire home full of furniture, appliances, and household items can end up totaling thousands of dollars. If you're moving to a home that's being renovated, you may also have to factor in the cost of storage and short-term accommodations for your family.
Your Choice
The best reason to not move: with a home addition you can turn your current home into your dream home. Keep in mind that when taking on this type of renovation project, the changes to your home don't have to be limited to the addition. One of the existing bedrooms, can become that master bedroom with the walk-in closet and en-suite bathroom you've always dreamed of.
You can extend your kitchen into the home addition, or create a family room or living room that flows together as part of your home addition plans.
If you revamp a full basement, you may finally get that home theater you've always fantasized about.
On the exterior, the home addition can give you the opportunity to update old siding or roofing shingles so everything blends in seamlessly.
Outdoor Living Spaces
The hottest trend in home design in years is the outdoor living space. Once just a place with a patio or deck, a few folding chairs and a grill, the backyard of your kids and pets is being transformed into an outdoor oasis for your family, friends, guests and YOU! Projects are featuring entire kitchens including things like gourmet pizza ovens, dining areas fit for a restaurant, and lounge areas that look like they belong in a hotel. Many outdoor living spaces include fire pits and fireplaces that are works of art.
Here are just three of the hottest trends in outdoor living space designs that our experts at Home Run Solutions think you'll have fun fantasizing over:
Outdoor Entertainment Centers
Movie night comes to the backyard! One of the key ways in which outdoor living spaces have evolved is the inclusion of technology. Thanks to flat screens, it's easy to hang a television just about anywhere. And with Wi-Fi and streaming services, you'll be the hit of the neighborhood with your outdoor movie nights.
There are a few ways to make a television and other electronic equipment work in an outdoor space, it's just important to install them in enclosed spaces and protect them from the elements.
Outdoor Kitchens
Kitchens have become a mainstay of outdoor spaces, and many homeowners are going whole hog with outdoor kitchens that often rival their indoor ones. Small refrigerators, a variety of burners and grills, sinks and ovens in gorgeous, weather-resistant stainless steel are the crown jewels of today's outdoor kitchen.
Outdoor Fire Features
Many folks may have become interested in remodeling their outside space after they introduced a fire pit to their backyard. Many of us have spent fond evenings relaxing around the fire as the heat of the day dissipates. The simple fire pit has undergone a metamorphosis into a "fire feature" where home homeowners select from a wide away of fireplaces, fire pits, and heating units that can extend the feasible time spent outdoors by a season, or two!
Whatever your outdoor fantasy may be, the design and remodeling experts at Home Run Solutions want to make sure they don't remain just fantasies any longer. Give us a call today to talk about your dreams. It's likely one of your neighbors already has, and we're certain they'll be happy to explain to you just how great it was to allow us to participate in making their dreams a reality.
Contact your Local Home Remodeling Contractors
Contact the home improvement experts at Home Run Solutions, LLC to schedule a consultation and a free quote. We'll discuss the options for your home improvement project and answer all of your questions.