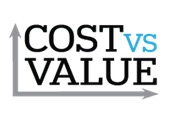 The two most common questions we receive from homeowners contemplating a home remodel are: 1) How much is my remodel going to Cost? and 2) How much Value will we gain from the completed project?
A great preliminary resource is the "Cost vs. Value" report presented each January by "Remodeling" magazine. The team at Remodeling sorts through all of the national data on home market values and construction costs to give a ballpark, region-by-region breakdown of how an individual remodeling project will affect one's home value.  In the report you'll find analysis on everything from large scale remodels, to new windows, to increasing the level of insulation in your attic.
When it comes to pricing out straight forward applications such as a new roof or a siding upgrade the "Cost vs. Value" report will tend to be on the higher side of what you'd expect to pay to a specialized contractor. The cost of these are applications that are easy enough to gauge with 2-3 proposals but the report will give you the insight to see how much return value you should expect on completion.
The report is really best suited to give an apples-to-apples market read out of what you should expect for more complex projects such as a second story addition, a finished basement, or even a kitchen remodel. These projects have many variables and it is these complexities that can cause a homeowner to have the most anxiety. The report gives insight based on different price ranges (low, mid, high) as it affects the expected return value. It is here that "Cost vs. Value" report offers the best market identification of added value.
Once again this year, the West Coast region has topped the national average with the best cost/value ratio for remodeling dollars spent. This is very promising news for local homeowners considering an addition or master bathroom remodel in 2015. Find out for yourself where your intended project will gain you the best value by downloading your own "Cost vs Value" report.
"Cost vs. Value" is a registered trademark of Hanley Wood LLC.
Do you have a project that you're considering? Book your In-Home Consultation Today…or give us a call (425) 533-7896, we'd love to hear what you have in mind.