Why Choose
Home Run Solutions?
Since 2006, Home Run Solutions, LLC has exceeded the expectations of homeowners in Mill Creek, WA and the surrounding areas. Joe Reed and Jacob Thompson are brother-in-laws and co-owners with over 30 years of combined remodeling experience. Our top priority is to listen to your concerns and interpret the vision you have for your new living space. To ensure our collaboration with you is a success we have invested in the latest design-build software which allows for the entire remodeling experience to be stress free, informative and exciting!
What Are Our Clients Saying?
Megan
I just wanted to let you know how impressed I was with Alex, Nate, and Gunnar! What wonderfully nice, hard-working guys! The house has been so spotless at the end of the day and they are all so friendly and accommodating to me and the boys. I can't imagine a better group to have in … Continue reading "Megan"
Phil & Suzanne
Home Run Solutions helped us change our divided and inconvenient first floor into a large great room. We have more space for our toddler to run around and can more easily entertain guests. The entire process is top notch from the initial meetings to the estimates to the actual work. I highly recommend this company!
Kassia
Home Run Solutions was amazing when they remodeled my 1 bedroom and 1 bathroom condo. In 2011, I added a washer and dryer and completely gutted my bathroom. Their work and coordination with my sub-contractors was excellent, and I've had no problems whatsoever with their work. Their work was so good that in the middle … Continue reading "Kassia"
Be Sure to Download Our Essential Kitchen & Bath Remodel E-Book:
How to Hire a Contractor Without Contracting an Ulcer
Get Your E-Book!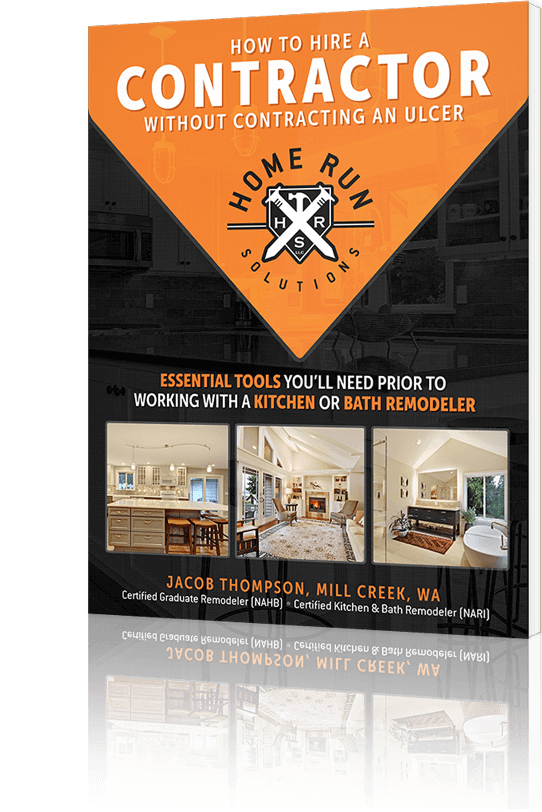 Assessing Your Current Space and Needs
Integrating Your Style into the Remodel
Choosing a Contractor – Traditional vs. Design-Build
Discussing the 3 Bid Myth
10 Questions to Ask Every Contractor
Checking References
The Contract and Much More!