Granite has long been at the top of the food chain when it comes to an elegant Kitchen Countertop. Granite composite sinks have been around for years too but just haven't gotten the notoriety that their slab counterparts have enjoyed. Don't let that obscurity fool you, there's a lot to like about a granite sink and if you're thinking of remodeling your kitchen consider some of the benefits that granite can do for your sink basin, especially if you want something that performs better than stainless or cast iron.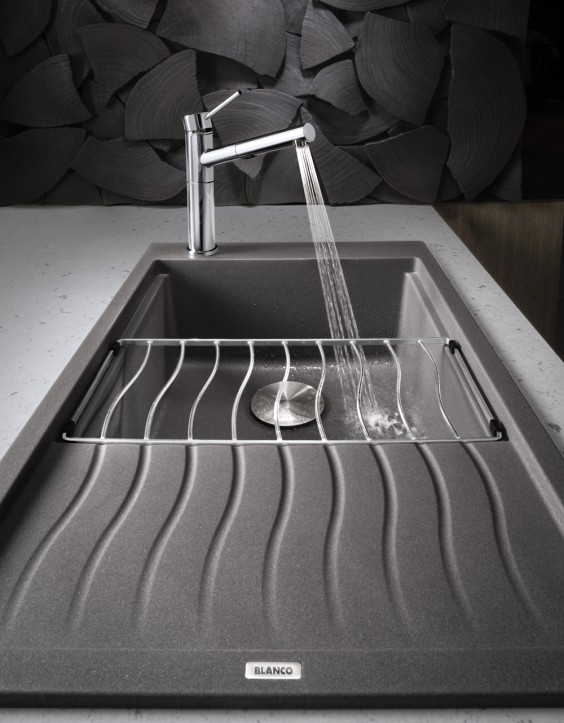 As you're probably aware granite is highly durable. A couple of the world's leading granite sink manufactures, Blanco and Schock, use 80-85% granite material (respectively) combined with acrylic binding agents to create their granite sinks that are heat resistant (up to 535 degrees), dent proof, chip proof, and won't scratch. Perhaps the best aspect is that the finish on a composite granite sink is nonporous which makes it highly resistant to bacteria growth and staining. No abrasives or chemicals are needed to keep these sinks looking sharp, just soap and water.
Blanco's granite composite sink is "Silgranit" which features the patented "Hygienic Plus" finish. Hygenic Plus technology claims to reduce bacteria up to 98% and is 100% safe for food use. Schock has been manufacturing granite composite sinks for over 25 years. They state that their sinks do not fade in sunlight and normal household use will not cause any discernible changes to the color since the material color is consistent through the entire pouring process. Currently Blanco offers 7 different Silgranit sinks (with size and bowl options) in 8 colors. www.blanco-germany.com
Schock has been creating granite composite sinks slightly longer than Blanco (30+ years). They boast 2 slightly different non-porous granite surfaces. Both feature what they call a "Pro Hygienic 21" finish which keeps food safe and clean up easy. The first option is "Cristalite," closer to a more traditional granite in look and feel while "Cristadur" has a silkier, smooth surface. Each style is available in 7 different color schemes. Between the 2 surfaces there are 12 unique models that will fit cabinets ranging from 18″-36." Schock also has an extensive line of faucets that pair to the finishes with subtle color bands. Have a look at the Schock Catalog or visit the website for more information on granite sinks. www.schockamerica.com
The images are courtesy of Blanco & Schock.
You might also enjoy these previous articles related to granite counters and kitchen sinks:
"Give Your Kitchen The Edge to Stay on Top"
"Kitchen Countertops Aren't Just For Looks"
"Obey the Rule of the Triangle"
Do you have a kitchen or bath project in mind but not sure where to start?
Our Kitchen and Bathroom Remodel Guide is a great place to begin.
We'd love to hear your story. Contact us today 425-320-4786 or Book your in-home consultation online!