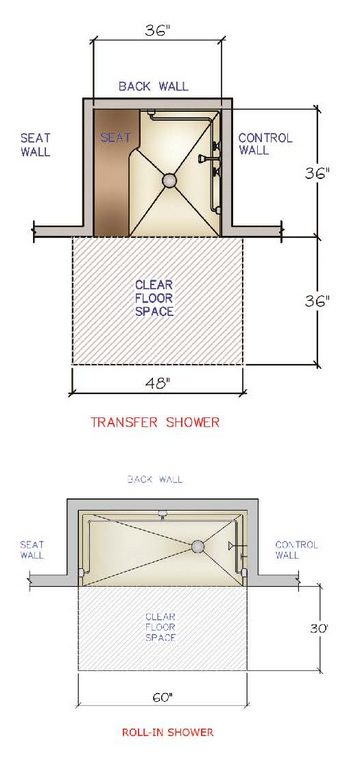 Recent studies performed by AARP (American Association of Retired Persons) show that 89% of people 50+ wish to remain in their own homes indefinitely. In our remodeling experience this is most certainly the case, people save for years to afford their dream kitchen or new master bathroom. They live in homes that are more to them than just lumber and drywall, it is where their memories reside and where they are the most comfortable-at home.
In the design phase we always try to get our clients to look into the future regardless of their age or needs because now is the time to make considerations for what may become a necessity at a later date. In a bathroom remodel wheelchair access should be addressed as it pertains to each phase of the renovation. We start with the preference list. Do you prefer a bath or shower? What types of finished surfaces do you prefer? To which we can then look to find that particular tile, for example, in a non-slip version. The budget is also a topic that needs to be discussed because these days the sky is the limit on what is available from bidet/toilets, to motion activated fixtures, to customized hydraulic lifts. As always the budget will be what dictates what can and cannot be incorporated into the new bathroom.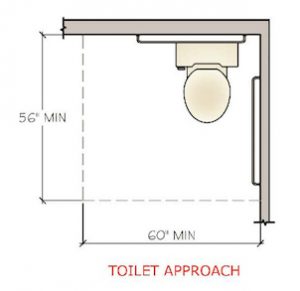 We start with the footprint of the existing bathroom to evaluate how the framing currently lays out. Will walls need to be removed or modified to create wheelchair access? (Refer to the illustrations to see some measurements and design scenarios.) Consider that the bathroom may require enough space for a caregiver to assist a homeowner at some point in the future. This can affect how closely fixtures are located along the same wall; for example a toilet beside a sink.  You may not need the extra space to accommodate a wheelchair now but if you have control of where the walls are being built it makes the most sense to arrange them in a way where later modifications  will not require rerouting utilities or costly structural adjustments.
For an accessible bathroom we prefer to see a doorway that is 36″ wide but typically interior doors only measure 30″ so some framing alterations may be required. The location of the new doorway may also need to be relocated, for instance if it is currently in a tight hallway it might make sense to put the new entrance in an adjacent wall to allow the wheelchair user easier in-and-out access. The door itself should also swing outward to create more space inside of the bathroom or a pocket door is also a nice option for obtaining more bathroom space.
The door handle itself should be a lever style rather than an orbital twist model which can be very difficult for many to operate. Actually considerations will be made when selecting all hardware. For light switches we recommend Decora push switches, not small toggles flip switches. For sink faucets the choice should be an easy to grab lever models, not small twist knobs. For cabinet hardware large handles make much more sense than tiny knobs. Plan for switches, outlets, and storage spaces to be lower and unobstructed so someone can still access them from a seated position. Try to incorporate as much natural light into the new bathroom as possible. If new lights are needed make sure they fully illuminate the room as not to cast shadows which can create problems for someone with limited vision. If the budget allows the best upgrade is to opt for motion activated switches on as many fixtures as possible.
Many of the bathroom remodels we complete these days involve a custom shower. In fact many homeowners are removing the tub from their bathroom altogether. If this is the case in your new suite, plan for the shower with a minimum of 3'x5′ floorspace. If it needs to be wheel chair ready now you'll also need to discuss options that will give the shower barrier free access. This is a design trend that has recently become very popular with the advent of linear drains and easy to install shower pan kits. The end result gives the shower a very clean, streamlined appearance. Simple steps like adding plenty of backing (large dimensional lumber fastened between stud bays) now for grab bars will make modifications later an easier task.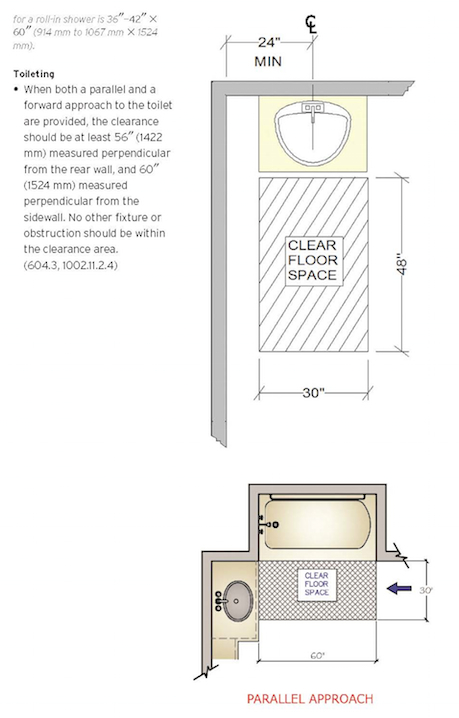 According to NAHB (National Association of Home Builders), along with a skilled labor shortage, the aging population of US citizens is going to have the biggest impact on the remodeling industry in the 5 years. Concepts like Universal Design and Aging in Place will become the standard by which homes will be built, in particular the bathroom. With this in mind the beauty of the design phase is that you'll be able to prepare your home for now and rest assure that you'll be able to continue to enjoy it well into the future.
The images are courtesy of NKBA.org 
---
Do you enjoy discovering new Kitchen, Bathroom, or Home Renovation Ideas? Check out our backlog of Previous Blogs It's a great resource for Home Owners. 
Do you have a kitchen or bath project in mind but not sure where to start?
Our Kitchen and Bathroom Remodel Guide is a great place to begin.
We'd love to hear your story. Contact us today 425-320-4786 or Book your in-home consultation online!